We can see evidence all around.  
The COVID-19 pandemic is driving great change across almost every aspect of American society. One of the biggest outcomes is faster adoption of digital tools and services in financial institutions. But forces beyond the pandemic are pushing digital change, too. They're things you may or may not have seen coming. 
Market trends and shifts

 

Competitive innovations and new 

financial 

services

 

Disruptive technology

 
If you're not prepared for sudden massive change, you'll probably have to cut back on something in order to accommodate the change. 
In the IT world, big changes can adversely impact important things like: 
Your security processes and protocols,

 
Your compliance standards and procedures, or

 
The customer experience you deliver

 
Verifiable credentials are your keys to hold these areas together. It'll allow you to pivot quickly and give you the operational agility you need to stay ahead of your competition. There are three reasons why this is true.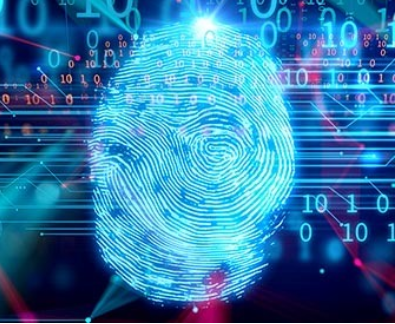 Reason 1 –
Verifiable credentials
enable
secure
digital transformation
Or, from another perspective, you can't keep secure what you can't identify. "Security" is the ability to be confident of the answer when you ask, "who are you?"
Identity answers three separate security questions.
1. Who are you?
This is the foundation, and there are different ways to establish it.
2. How sure are we of that?
A core function of identity and authentication is your degree of certainty. There are additional steps available if you need a higher degree of confidence.

3. What should we allow you to do?
This is the context around who's asking and why. Identity evaluates and determines the resources someone can access, what data should be exposed, and much more.
Think about it. Let's say you launched online banking in 2008, started a partner loyalty program two years later and added a mobile app and online stock trading a few years after that. You may have inadvertently created a risky situation where security compromises are hard to identify and even harder to fend off.
This is why your credit union should have centralized identity security. It's more stable and it lets you launch new digital initiatives faster. You just plug into easy-to-use identity services without having to reinvent the wheel each time.
Reason 2 – Digital identity ensures
compliant
digital transformation
Consent enforcement, a/k/a "compliance" is a key capability of identity. "Consent" refers to which apps can have access to which data under which circumstances. More and more states are passing laws protecting consumers' rights to privacy.
For example, the California Consumer Privacy Act of 2018 (CCPA) gives consumers more control over the personal information that businesses collect about them. And it's not only California. According to the National Conference of State Legislatures, at least 30 states introduced consumer data privacy bills in 2020.
You get definite business advantages from centralized authentication access. It keeps your members' data private and makes it easier for you to comply with new legislation.
Centralized access also works well when open-banking initiatives require you to share member data with a third-party provider. Simply put, centralized access control of digital identification reduces your risk and increases your organizational agility.
Reason 3 – Digital identity enables
extraordinary member experiences
during digital transformation
Authentication is one of those things that no member ever thinks much about until it becomes an annoying nuisance.
You avoid this negative experience altogether if you pull digital identity out of the individual apps and functions. Give the member the ownership of his or her identity and make it work across every channel and service you provide.
Wouldn't that deliver a truly memorable customer experience? You can extend this positive experience to allow members to also choose their own multi-factor authentication preference.
Consistent digital identity makes sense across every channel: web, call center, drive through, lobby and more. It also removes much of the potential risk to agile operation. When you don't have to update authentication procedures across multiple channels, how much more efficiently will you be operating?
You'll be able to pivot quickly to keep up with market trends, competitive threats and pandemic-related changes without having to sacrifice security, compliance, or customer experience.
The market is moving right now – don't delay action
Digital identity gives you the agility to react quickly to any market change and deliver outstanding member experiences. Make MemberPass a key part of your 2021 planning.
MemberPass, the way to build digital trust with your members
Create greater digital trust and deliver a significantly better member experience. It's easy! To learn more about MemberPass, email us to request a demo or FAQ list, register to attend a webinar, or visit us at www.memberpass.com.
CULedger, a credit union service organization, offers MemberPass, the simplest, most secure and convenient digital method to verify member identity. We leverage touchless, privacy-enhancing technology to protect against identity theft and fraud. MemberPass will revolutionize how you say "hello" to members. Visit www.memberpass.com or email sales@memberpass.com.