This month's blog series provided a recap of a fireside chat discussion with Jim Stickley, CEO of Stickley on Security and a well-known cyber security expert. A person's online identity isn't always what it appears to be. Data breaches, phishing schemes, identity theft, money laundering and other digital scams have wreaked havoc on credit union's ability to build trust.
Your members want to feel assured that you know who they are and the history of their relationship with your credit union, that you value their business and that you can help them resolve any issue or concern they may have.
The digital nature of interactions during this crisis can make it more difficult to fulfill these emotional and functional needs while delivering exceptional member experiences. Developing and delivering personalized interactions to your members can help lessen the strain and frustration members feel during this troubled time. Personalized interactions that focus on demonstrating that you know your members and have their best interests in mind can only help strengthen your relationship and lead to improved loyalty and trust.
Consumers in general have less tolerance than ever for unnecessary friction – instead, each interaction and step along the member journey must be considered through the lens of trust. Where does a credit union start in building trust with their members?
Jim suggests performing a risk assessment for authentication in your member journey. What you'll likely discover is there's a different authentication process for each channel that usually involves some party in the middle between you and your credit union.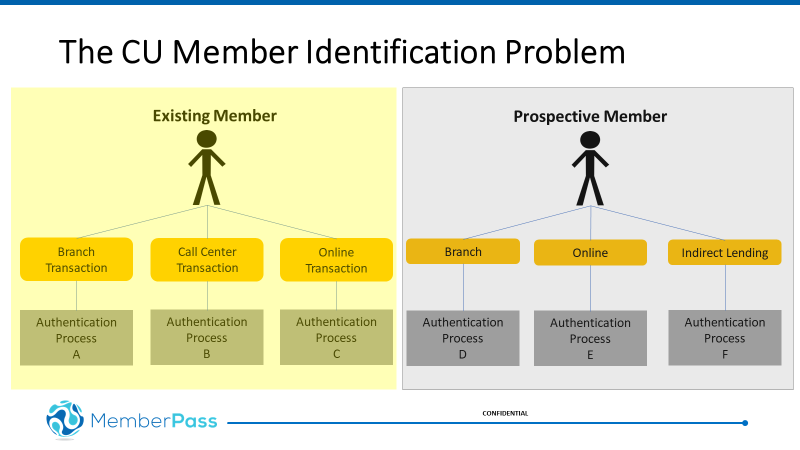 To be truly impactful, you must provide a friction-less experience across all channels you interact with. Focus on improving the channels that put the member's needs and best interests first and break down the silos of your credit union.
Credit unions have a turnkey, affordable digital identity solution that will provide a seamless member experience across all channels and provide the value of safeguarding members' personal information. "With MemberPass, you have a true handshake established where both sides now establish trust," says Stickley.
Taking the first step toward creating digital trust between your credit union and your members is easy. To learn more about MemberPass and how to participate in the MemberPass Trust Registry, send us an email requesting a list of FAQs or a demo, register to attend one of our webinars, or visit us at www.memberpass.com.
CULedger, a credit union service organization, offering MemberPass, the simplest, most secure solution to verify your members through leveraging touch-less, privacy-enhancing technology to protect credit unions and their members from identity theft and fraud. Visit www.memberpass.com or email us at sales@memberpass.com.